'Works on Paper: Paintings and Drawings' April 1-29 at Richard Boyd Art Gallery
April 1, 2017 - April 29, 2017
'Works on Paper: Paintings and Drawings' April 1-29 at Richard Boyd Art Gallery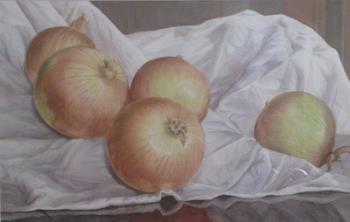 Caption:
'Still Life with Onions' ~ Watercolor 22" x 30" by Paul J. Noel
(Portland, ME) 'Works on Paper' an annual exhibit at Richard Boyd Art Gallery opens Saturday, April 1 at 10:00 a.m. The exhibit explores works by three artists creating paintings and drawings on a time honored raw product - paper. An unforgiving surface around for centuries, paper reveals the artist's proficiency in creating works of visual art.
The exhibit features a selection of original paintings and drawings depicting an array of subjects from dramatic still life, to traditional landscapes and figurative studies by artists' Paul J. Noël - still life and landscapes in watercolor and oil, and figurative studies in graphite; Julianne Garvey - landscape paintings in watercolor and mixed media; and Randy Eckard - landscape paintings in watercolor.
'Works on Paper: Paintings and Drawings' is on view free of charge between the hours of 10:00 a.m. and 5:00 p.m. daily through April 29, 2017. The public is invited to meet artists Paul J. Noël and Julianne Garvey at the opening reception at Richard Boyd Art Gallery on Saturday, April 1 between the hours of 12:00 noon and 3:00 p.m.
For additional information about the reception or exhibit please contact the gallery by phone at 207-712-1097, via email at info@richardboydartgallery.com or visit Http://www.richardboydartgallery.com . Like the gallery on Facebook at Http://www.facebook.com/RichardBoydArtGallery .
Copyright©2017 Richard Boyd Art Gallery All Rights reserved.
CONTACT INFO:
Richard Boyd Art Gallery


15 Epps Street


Portland
Contact:
ADDITIONAL INFO:
Category:
Cost:
Sponsor:
Disclaimer:
Any person or entity that relies on any information obtained from this system does so at his or her own risk. Various websites may be linked through the MaineArts.com website. Content of such sites is not monitored by the Maine Arts Commission.