CineGrand Film: Arrival- Saturday Matinee
CineGrand Film: Arrival- Saturday Matinee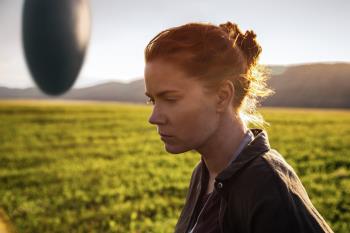 Caption:
Amy Adams in the Oscar™-winning "Arrival." by Paramount Pictures.
The Grand's Weekly CineGrand series– a series of the best of the recent films, from both the Hollywood studios and independents, all playing Tuesday at 7:30 pm and Wednesdays at 1:00 pm at The Grand in Ellsworth- continues its new Winter/Spring season on Tuesday, March 28, a special closed-captioned screening on Wednesday March 29, and exclusive encore weekend screenings on Friday, March 31 at 7:30pm and Saturday, April 1 at 1:00 pm and 7:30 pm with one of this year's Best Picture Oscar™ nominees "Arrival." The film tells the story of when mysterious spacecraft touch down across the globe and an elite team- lead by expert linguist Louise Banks (Amy Adams)- are brought together to investigate. As mankind teeters on the verge of global war, Banks and the team race against time for answers- and to find them, she will take a chance that could threaten her life, and quite possibly humanity. The film was nominated for several Oscars™ this year including Best Cinematography, Best Adapted Screenplay and Best Directing and won for Best Sound Editing. With Jeremy Renner, Forest Whitaker and Michael Stuhlbarg. (2016. USA 1 hr, 56 min. Directed by Denis Villeneuve. PG-13.) For more information on this or other Grand events, please call the box office at 207-667-9500 or visit The Grand website at www.grandonline.org or follow The Grand on Facebook.
CONTACT INFO:
The Grand


165 Main St.


Ellsworth
Contact:
ADDITIONAL INFO:
Category:
Cost:
Tickets for this General Admission presentation are $8 for Adults, $7 for Seniors/Students and $6 for both Grand Members and Matinee Admissions.
Sponsor:
ACCESSIBILITY INFO:
Notes :
Disclaimer:
Any person or entity that relies on any information obtained from this system does so at his or her own risk. Various websites may be linked through the MaineArts.com website. Content of such sites is not monitored by the Maine Arts Commission.