CineGrand Film: Manchester by the Sea- Tuesday Evening
CineGrand Film: Manchester by the Sea- Tuesday Evening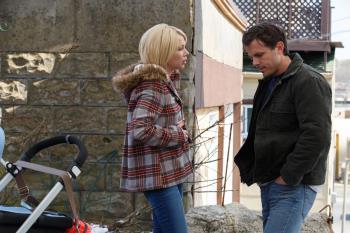 Caption:
Casey Affleck and Michelle Williams star in "Manchester by the Sea." by Amazon Studios.
The Grand's Weekly CineGrand series– a series of the best of the recent films, from both the Hollywood studios and independents, all playing Tuesday at 7:30 pm and Wednesdays at 1:00 pm at The Grand in Ellsworth- continues its new Winter/Spring season on Tuesday, March 21 and a special closed-captioned screening on Wednesday March 22 with one of this year's Best Picture Oscar™ nominees "Manchester by the Sea."After the death of his older brother Joe (Kyle Chandler), Lee Chandler (Casey Affleck) is shocked to learn that Joe has made him sole guardian of his nephew Patrick (Lucas Hedges). Taking leave of his job, Lee reluctantly returns to Manchester-by-the-Sea to care for Patrick, a spirited 16-year-old, and is forced to deal with a past that separated him from his wife Randi (Michelle Williams) and the community where he was born and raised. Bonded by the man who held their family together, Lee and Patrick struggle to adjust to a world without him. The film is nominated for several Oscars™ including Best Supporting Actor (Lucas Hedges), Best Supporting Actress (Michelle Williams) and Best Director as well as winning Best Actor for Casey Affleck and Best Original Screenplay for Kenneth Lonergan. With Gretchen Mol and Matthew Broderick. (2016. USA 2 hrs, 15 min. Directed by Kenneth Lonergan. R.) For more information on this or other Grand events, please call the box office at 207-667-9500 or visit The Grand website at www.grandonline.org or follow The Grand on Facebook.
CONTACT INFO:
The Grand


165 Main St.


Ellsworth
Contact:
ADDITIONAL INFO:
Category:
Cost:
Tickets for this General Admission presentation are $8 for Adults, $7 for Seniors/Students and $6 for both Grand Members and Matinee Admissions.
Sponsor:
ACCESSIBILITY INFO:
Notes :
Disclaimer:
Any person or entity that relies on any information obtained from this system does so at his or her own risk. Various websites may be linked through the MaineArts.com website. Content of such sites is not monitored by the Maine Arts Commission.