Clint Fulkerson: Fluid Geometry
January 17, 2017 - March 31, 2017 (Monday, Tuesday, Wednesday, Thursday, Friday)
Clint Fulkerson: Fluid Geometry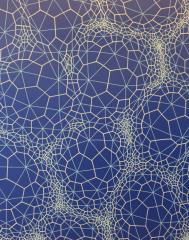 Caption:
Blue Nebula by Clint Fulkerson
Fulkerson will create a new mural on the gallery wall and exhibit several paintings based on intricate compositions of repeating geometric shapes. Mark Wethli has written that "Fulkerson's work parallels the generative principle of repeating forms found at all scales in the natural world – from the cosmic to the infinitesimal–to create his intricate, prolific, and visionary art." Fulkerson has exhibited his work at many Maine venues, is represented by the Curator Gallery in NYC, and has received several public art commissions.
USM AREA Gallery Hours:
Monday-Friday 7 a.m. - 10 p.m.
Closed on weekends.
All exhibitions and events hosted by the USM Art Department and Gallery are free and open to the public. For more information visit www.usm.maine.edu/gallery.
CONTACT INFO:
USM AREA Gallery


35 Bedford Street


Portland
Contact:
ADDITIONAL INFO:
Category:
Children-Family
Community Event
Cost:
Sponsor:
University of Southern Maine
ACCESSIBILITY INFO:
Notes :
Disclaimer:
Any person or entity that relies on any information obtained from this system does so at his or her own risk. Various websites may be linked through the MaineArts.com website. Content of such sites is not monitored by the Maine Arts Commission.