Film: I Am Not Your Negro
Film: I Am Not Your Negro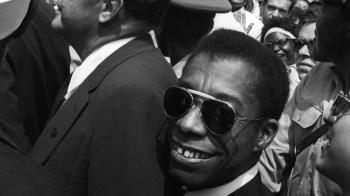 Caption:
James Baldwin, the subject of "I Am Not Your Negro." by Magnolia Pictures.
On Thursday, March 23 at 7:30 pm, The Grand presents one of this year's Oscar™-nominated documentaries. "I Am Not Your Negro" is based on a never-finished book by the incendiary American novelist, essayist, playwright, poet, and social critic, James Baldwin. In 1979, Baldwin wrote a letter to his literary agent describing his next project, Remember This House. The book was to be a revolutionary, personal account of the lives and successive assassinations of three of his close friends- Medgar Evers, Malcolm X and Martin Luther King, Jr. At the time of Baldwin's death in 1987, he left behind only thirty completed pages of his manuscript. Now, in his exciting, provocative new documentary, master filmmaker Raoul Peck envisions the book James Baldwin never finished. The result is a radical, up-to-the-minute examination of race in America. It is a film that questions black representation in Hollywood and beyond. And, ultimately, by confronting the deeper connections between the lives and assassination of these three leaders, Baldwin and Peck have produced a work that challenges the very definition of what America stands for. With narration by Samuel L. Jackson.(2016. USA 1 hr, 33 min. Directed by Raoul Peck. PG-13.)For more information on this or other Grand events, please call the box office at 207-667-9500 or visit The Grand website at www.grandonline.org or follow The Grand on Facebook.
CONTACT INFO:
The Grand


165 Main St.


Ellsworth
Contact:
ADDITIONAL INFO:
Category:
Cost:
Tickets for this General Admission presentation are $8 for Adults, $7 for Seniors/Students and $6 for both Grand Members and Matinee Admissions.
Sponsor:
ACCESSIBILITY INFO:
Notes :
Disclaimer:
Any person or entity that relies on any information obtained from this system does so at his or her own risk. Various websites may be linked through the MaineArts.com website. Content of such sites is not monitored by the Maine Arts Commission.