Live Theatre: Agatha Christie's And Then There Were None- Sunday Matinees
March 19, 2017 - March 27, 2017 (Sunday)
Live Theatre: Agatha Christie's And Then There Were None- Sunday Matinees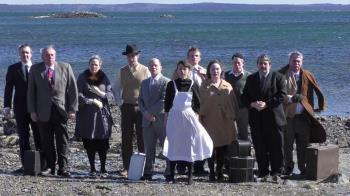 Caption:
The Grand's production of Agatha Christie's "And Then There Were None" running 3/17- 3/26. by The Grand
Live on the Stanley Subaru stage at The Grand in Ellsworth on Friday March 17, Saturday March 18, Friday March 24 and Saturday March 25 at 7:00 pm and Sunday March 19 and Sunday March 26 at 2:00 pm, the Agatha Christie classic chiller And Then There Were None.Ten strangers trapped in a deserted mansion on an island miles away from help. One killer who has a maniacal obsession with a very cruel nursery rhyme... And the countdown starts... NOW. The excitement never lets up in this classic Agatha Christie whodunit production! For more information on this or other Grand events, please call the box office at 207-667-9500 or visit The Grand website at www.grandonline.org or follow us on Facebook.
CONTACT INFO:
The Grand


165 Main St.


Ellsworth
Contact:
ADDITIONAL INFO:
Category:
Cost:
Tickets for this General Admission presentation are $20 for Adults, $18 for Grand Members, $12 for Students (15&under).
Sponsor:
ACCESSIBILITY INFO:
Notes :
Disclaimer:
Any person or entity that relies on any information obtained from this system does so at his or her own risk. Various websites may be linked through the MaineArts.com website. Content of such sites is not monitored by the Maine Arts Commission.