Live from the MET: Idomeneo (Mozart)
Live from the MET: Idomeneo (Mozart)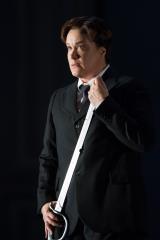 Caption:
Matthew Polenzani in Mozart's "Idomeneo," part of the "Live in HD" series at The Grand. by The New York Metropolitan Opera.
The "Live in HD" high-definition simulcast series of productions and hi-def encores from The New York Metropolitan Opera continues its 2016 – 2017 season at The Grand on Saturday March 25 at 1 pm with a presentation of one of the great examples of the opera seria genre- Wolfgang Amadeus Mozart's Idomeneo. Mozart's first operatic masterpiece returns to the Met in the classic Jean-Pierre Ponnelle production, conducted by James Levine. The superb ensemble includes Matthew Polenzani as the king torn by a rash vow; mezzo-soprano Alice Coote in the trouser role of his noble son Idamante; soprano Nadine Sierra as Ilia; and soprano Elza van den Heever as the volatile Elettra, who loves Idamante to the bounds of madness. The estimated run time is 4 hours and 20 minutes with two intermissions. For more information on this or other Grand events, please call the box office at 207-667-9500 or visit The Grand website at www.grandonline.org or follow us on Facebook.
CONTACT INFO:
The Grand


165 Main St.


Ellsworth
Contact:
ADDITIONAL INFO:
Category:
Cost:
Tickets are Reserved Seating for this hi def simulcast and the prices are as follows- $27 for Adults, $25 for Grand Members and $20 for Students (15 & under).
Sponsor:
ACCESSIBILITY INFO:
Notes :
Disclaimer:
Any person or entity that relies on any information obtained from this system does so at his or her own risk. Various websites may be linked through the MaineArts.com website. Content of such sites is not monitored by the Maine Arts Commission.