Momentary Certainties featuring Sal Taylor Kydd + Megan Magill
March 8, 2017 - April 8, 2017 (Wednesday, Thursday, Friday, Saturday)
Momentary Certainties featuring Sal Taylor Kydd + Megan Magill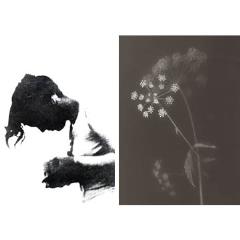 Momentary Certainties features work by Megan Magill and Sal Taylor Kydd. Megan Magill will exhibit work from her recent project, My Business is Circumference, in which she created one of a kind works on paper by pushing dry mediums, such as powdered graphite and chalk pastels, through a photographically exposed silkscreen. Sal Taylor Kydd will show platinum palladium photographs that capture passing moments in the natural world, expressing both a sense of place and discovery. Both artists think of the photographic object as "keepsake of human experience," and hope that their work will prompt viewers to reflect on time, memory, and the fleeting moments of our passing lives. Through working in alternative processes, such themes are embodied in the artistic practices in which the artists engage. Sal Taylor Kydd and Megan Magill are recent graduates of the MFA program at Maine Media College (MMC), in Rockport, Maine. The low-residency program at MMC is geared toward artists interested in engaging in a rigorous educational experience leading to the MFA degree in the media arts fields of photography, filmmaking and multimedia.
CONTACT INFO:
PhoPa Gallery


132 Washington Avenue


Portland
Contact:
ADDITIONAL INFO:
Category:
Children-Family
Community Event
Cost:
Sponsor:
Disclaimer:
Any person or entity that relies on any information obtained from this system does so at his or her own risk. Various websites may be linked through the MaineArts.com website. Content of such sites is not monitored by the Maine Arts Commission.