Senator Angus King to Display Maine Glass Artist's
Senator Angus King to Display Maine Glass Artist's Loon Vase
Wednesday, August 10, 2016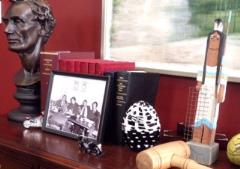 Montville, ME: A glass vase made by David Jacobson of Jacobson Glass Studio in Montville will be on display in Senator King's office in Washington, D.C. The vase, part of Jacobson's Loon Series, is made of black, white, and red glass tiles known as murrini, and was designed to represent the markings of the loon.
"I am honored to have my glass in Senator King's office and how fantastic that Senator King believes in showcasing the work of Maine artists," Jacobson said.
Jacobson met Senator King at the Penobscot Bay Chamber of Commerce Business Breakfast in May, where a conversation began about loaning a piece of Jacobson's glass to Senator King's office.
About Jacobson Glass Studio: Jacobson Glass Studio is an independent glassblowing studio located at 210 Choate Road in Montville, ME. The studio is housed in a renovated 200-year-old barn, where Jacobson makes hand-blown and kiln-formed glass. Utilizing contemporary designs based in the Venetian tradition, Jacobson makes brightly colored functional objects — bowls, glasses, vases and platters — as well as sculptural objects. Jacobson also offers the opportunity for individuals, groups and families to try glassblowing themselves. For more information: www.jacobsonglassstudio.com
Disclaimer:
Any person or entity that relies on any information obtained from this system does so at his or her own risk. Various websites may be linked through the MaineArts.com website. Content of such sites is not monitored by the Maine Arts Commission.