"Cuban Footsteps" Reception
"Cuban Footsteps" Reception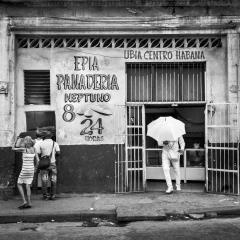 Join us for a reception to celebrate current exhibition "Cuban Footsteps."
In December of 2014, just weeks before President Barack Obama normalized relations with Cuba, a group of professional and amateur photographers travelled there to retrace the steps of renowned documentary photographer Walker Evans. The "Cuban Footsteps" exhibition is representative of their unique journey, offering a reinterpretation of Evans' iconic 1930s images at a new historical tipping point.
Featuring photographs by: Sam Abell, Fred Blum, Kip Brundage, Reid Callanan, Matt Cronin, Jorge Gavilondo, Rob Gensler, Greg Gorman, Cig Harvey, Alain Jaramillo, David Julian, Skip Klein, Mark Klett, Liudmila & Nelson, Jose Marti, Abelardo Morell, Keron Psillas, Kevin Sweeney, and Kari Wehrs
CONTACT INFO:
PhoPa Gallery


132 Washington Ave


Portland
Contact:
ADDITIONAL INFO:
Category:
Children-Family
Community Event
Cost:
Sponsor:
Disclaimer:
Any person or entity that relies on any information obtained from this system does so at his or her own risk. Various websites may be linked through the MaineArts.com website. Content of such sites is not monitored by the Maine Arts Commission.