October 12, 2016 - November 12, 2016 (Wednesday, Thursday, Friday, Saturday)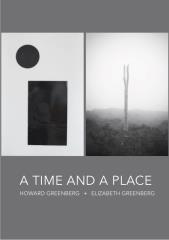 A Time and A Place features photographs by Elizabeth Greenberg and mixed media work by Howard Greenberg. In her ethereal black and white photographs, Elizabeth uses landscape imagery including open spaces, fleeting, tranquil moments, and broken rays of light, as not a documentation of place but rather a vehicle to transport the viewer and induce particular states of mind. Howard will exhibit a new body of work that replicates elements of paintings by Kazimir Malevich, Russian artist known for founding the Suprematist movement about 100 years ago, a movement that championed abstraction and pure artistic feeling over representation. As with Malevich's work, the pieces are primarily black and white geometric abstractions but in reinterpreting these pieces Howard incorporates found material including records, record covers, speaker grill cloth and carpet padding. Though working in different mediums and employing diverse visual language, Elizabeth and Howard both seek to address themes of physical versus perceived reality through these bodies of work. This will be the first time the couple, both artists and educators in Midcoast Maine, have exhibited their work together.
CONTACT INFO:
PhoPa Gallery


132 Washington Avenue


Portland
Contact:
ADDITIONAL INFO:
Category:
Cost:
Disclaimer:
Any person or entity that relies on any information obtained from this system does so at his or her own risk. Various websites may be linked through the MaineArts.com website. Content of such sites is not monitored by the Maine Arts Commission.