All Creatures Great and Small
All Creatures Great and Small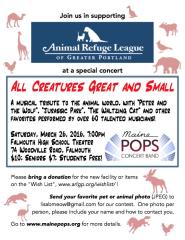 Caption:
2016 All Creatures by Robert Swerdlow
A musical tribute to the animal world, featuring favorites like "Peter and the Wolf", "Jurassic Park", "The Waltzing Cat" and "All the Pretty Little Horses". Join us in supporting the Animal Refuge League of Greater Portland at a special concert benefit. Bring a donation for the new facility or items on the "Wish List," www.arlgp.org/wishlist/ Send your favorite pet or animal (JPEG) photo to lisabmeow@gmail.com for our contest. One photo per person, please include your name and how to contact you. Go to www.mainepops.org for more details. Bring your family and friends for an evening of musical fun. Parking Free
CONTACT INFO:
Falmouth High School Theater


74 Woodville Road


Falmouth
Contact:
ADDITIONAL INFO:
Category:
Children-Family
Community Event
Cost:
At the door: Tickets $10, Seniors $7, Students Free,
Sponsor:
ACCESSIBILITY INFO:
Notes :
Disclaimer:
Any person or entity that relies on any information obtained from this system does so at his or her own risk. Various websites may be linked through the MaineArts.com website. Content of such sites is not monitored by the Maine Arts Commission.