Annual "Wildlife and Animal Theme Art Exhibit" April 1-29 at Richard Boyd Art Gallery
April 1, 2016 - April 29, 2016
Annual "Wildlife and Animal Theme Art Exhibit" April 1-29 at Richard Boyd Art Gallery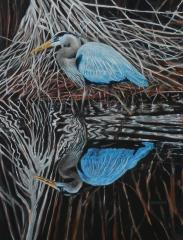 Caption:
"Blue Heron" ~ Acrylic Based Gouache 18" x 24" by Amy Bickford
Richard Boyd Art Gallery located on Peaks Island in Portland, Maine is pleased to present an annual Wildlife and Animal Theme Art exhibit on Friday, April 1 at 10:00 a.m. The exhibit features a selection of paintings and sculptures depicting animals in a variety of settings including sporting and wildlife scenes, and a select offering of animal portraits.
Included in the exhibit are works by artists Rob Anderson - paintings in oil; Amy Bickford - paintings in acrylic based gouache, watercolor, and mixed media; and Charles Ellithorpe, DVM - limited edition bronze sculptures.The public is invited to the opening reception at Richard Boyd Art Gallery on Friday, April 1 between 5:00 p.m. and 7:00 p.m.
The gallery is located at the corner of Island Avenue and Epps Street in the first building on the right on the first floor. The exhibit is on view free of charge to the public between 10 a.m. and 5 p.m. daily through April 29, 2016. For additional information about the exhibit or reception please contact the gallery by phone at 207-712-1097, via email at info@richardboydartgallery.com or visit www.richardboydartgallery.com For weekly news and upadtes please like the gallery on Facebook at www.facebook.com/RichardBoydArtGallery .
Copyright©2016 Richard Boyd Art Gallery All Rights Reserved.
CONTACT INFO:
Richard Boyd Art Gallery


15 Epps Street


Portland
Contact:
ADDITIONAL INFO:
Category:
Cost:
On exhibit free of charge to the public.
Sponsor:
Disclaimer:
Any person or entity that relies on any information obtained from this system does so at his or her own risk. Various websites may be linked through the MaineArts.com website. Content of such sites is not monitored by the Maine Arts Commission.