Art/Work: The Work of Art Show Opening
Art/Work: The Work of Art Show Opening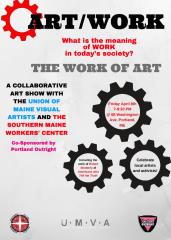 Caption:
Art/Work: The Work of Art
Art/Work: The Work of Art is a collaborative art show between the Union of Maine Visual Artists and The Southern Maine Workers' Center, co-sponsored by Portland Outright. Using their unique gifts of creative expression, local artists will be showing pieces based on the broad theme of the meaning of work in today's society, exploring multiple perspectives highlighting not only the exploitative and oppressive aspects of work and our modern economy, but also the potential for work to be dignified. Among the many local artists included in the show, the show will also feature two pieces by Robert Shetterly, a renowned Maine artist and creator of Americans Who Tell the Truth, whose mission is to create portraits and narratives that "highlight citizens who courageously address issues of social, environmental and economic fairness."
We hope you will join us for this unique and exciting event! For more information about the organizations sponsoring the event, please follow the links provided below:
CONTACT INFO:
Southern Maine Workers' Center


68 Washington Avenue


Portland
Contact:
ADDITIONAL INFO:
Category:
Cost:
The event is free and open to the public.
Sponsor:
Union of Maine Visual Artists, Southern Maine Workers' Center, Portland Outright
Disclaimer:
Any person or entity that relies on any information obtained from this system does so at his or her own risk. Various websites may be linked through the MaineArts.com website. Content of such sites is not monitored by the Maine Arts Commission.