Art of Duo: Mili Bermejo, Voice/Dan Greenspan, Bass
Art of Duo: Mili Bermejo, Voice/Dan Greenspan, Bass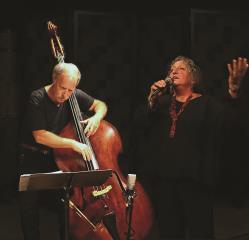 Caption:
Courtesy photo Mili Bermejo
On Sunday, April 17 at 3pm, The Dance Hall in Kittery continues a weekend of special intimate concerts with Art of DUO. Vocalist Mili Bermejo and bassist Dan Greenspan focus on original music, Jazz, Latin, poetry with echoes of contemporary classical. An intimate, expressive, elegant, rich in color and textures project, they are currently in the process of recording a new CD.
Mili Bermejo is a Latin music and Jazz specialist, composer, educator and has been a Professor at Berklee College of Music, Voice Department since 1984.
"Cross-cultural projects are now commonplace, but Mili Bermejo's aesthetic has always been singular...long a fixture on the Boston scene, she combines all manner of Latin American folk in a way that gives her music a flavor thats as up-to-the-minute as it is Old World. She has a cabaret performer's ability to get across a song, and she expressed alternating currents of sadness and humor with understated dramatic flair." Jon Garelick, Boston Phoenix.
At the center of Mili Bermejo's recent work is her voice and bass DUO with partner bassist Dan Greenspan. Together they have developed a unique and distinctive language of their own, anchored on decades of musical collaboration. Their sound is a multicultural one, blending the aesthetics of jazz with the colors, textures, rhythms and poetic content of Latin American and classical styles. Repertoire includes a large body of Bermejos compositions, along with works of contemporary composers and standards of jazz and Latin traditions.
The elegant wanderings and improvisations of both instruments resonate in a focused, heartfelt and provocative musical dimension. Mili, a highly skilled vocal craftswoman, uses her instrument to its fullest capacity, with an exquisite purity of range and dimension. Here she joins her equal partner, Dan, a double bassist rooted in the classical and jazz traditions. Dan's playing is pertinent, clear and honest, without a breath of superficiality or conceit. He dances a subtle dance between support, melody, counter-melody, and heavy groove. His command of the instrument is impeccable and moving, and at times rapturous.
Tickets are $12 in advance and $15 at the door and can be purchased at www.thedancehallkittery.org and www.brownpapertickets.com.
CONTACT INFO:
The Dance Hall


7 Walker Street


Kittery
Contact:
ADDITIONAL INFO:
Category:
Cost:
Tickets are $12 in advance and $15 at the door.
Disclaimer:
Any person or entity that relies on any information obtained from this system does so at his or her own risk. Various websites may be linked through the MaineArts.com website. Content of such sites is not monitored by the Maine Arts Commission.