Autumn Gold at The Grand- Film w/ Q&A – Unearthed & Untold: The Path to Pet Sematary
Autumn Gold at The Grand- Film w/ Q&A – Unearthed & Untold: The Path to Pet Sematary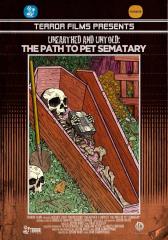 Caption:
The poster for "Unearthed and Untold: The Path to Pet Sematary." by Terror Films
On Saturday, September 24 at 7:00 pm, The Grand is thrilled to be screening "Unearthed and Untold: The Path to Pet Sematary" a documentary with a detailed look into the making of the film of Stephen King's "Pet Sematary", one of the most enduring cult-horror classics of our generation. The documentary includes the origins of the book and film story, the stories of cast and crew, memories of the Maine locals who helped make the film, and the legacy the film has established among horror fans and scholars of Stephen King's work. In addition to featuring many cast and crew members never before interviewed about their involvement in the film, "Unearthed and Untold..." also takes fans on a tour of all the filming locations. With photographs and footage from behind-the-scenes, original props from the film, media coverage of the production, and new stories about the Hollywood production being on location in Maine, the film is an all-encompassing documentary by fans for the fans. As the location where the casting calls for Stephen King's "Pet Sematary" were held in 1988, The Grand is happy to be the home of the screening of this fascinating documentary. In addition, there will be a Q&A event after the screening with the filmmakers of the documentary, John Campopiano & Justin White. For more information on this or other Grand events, please call the box office at 207-667-9500 or visit The Grand website at www.grandonline.org or follow us on Facebook.
CONTACT INFO:
The Grand


165 Main Street


Ellsworth
Contact:
ADDITIONAL INFO:
Category:
Cost:
Tickets for this General Admission presentation are $10 for Adults, $9 for Seniors/Students and $8 for Grand Members.
Sponsor:
ACCESSIBILITY INFO:
Notes :
Disclaimer:
Any person or entity that relies on any information obtained from this system does so at his or her own risk. Various websites may be linked through the MaineArts.com website. Content of such sites is not monitored by the Maine Arts Commission.