Building a Vocal Community Workshop: Singing in the African American Tradition
Building a Vocal Community Workshop: Singing in the African American Tradition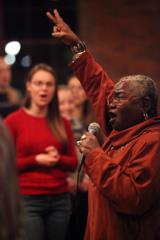 Building a Vocal Community Workshop: Singing in the African American Tradition (A Workshop by Ysaye Barnwell)
Saturday, April 2, 9:30am – 4pm Unitarian Universalist Church of Brunswick 1 Middle Street (corner of Pleasant and Middle Streets)
One of the most energetic and beloved workshop leaders ever to come to Brunswick, Dr. Ysaye Barnwell will envelop you in the joy of community through the music of the African-American vocal tradition, including calls and chants, spirituals, ring shouts, hymns, gospels, songs of the Civil Rights Movement, and songs of contemporary struggle. Mostly you will sing, but Ysaye also will bring her deep knowledge of the African-American tradition to discussions about the songs' historical, social, and political contexts. She will introduce you to the values embedded in the music, the role of cultural and spiritual traditions and rituals, ways in which leadership emerges and can be shared, and the nature of cultural response to political struggle.
No prior musical experience is necessary; the only requirements are a willingness to sing as fully as you can and to embrace joy.
A bagged lunch from Union Street Bakery will be provided for an additional fee to all those who request it when they register for the workshop. Participants may, instead, bring their own lunches, if preferred.
For 34 years Ysaye M Barnwell was a member of the Grammy Award winning a cappella ensemble Sweet Honey in the Rock. She is a composer commissioned to create music for dance, choral groups, film, and stage productions. A number of her songs have been recorded by Sweet Honey. Barnwell holds a PhD in speech pathology, a post-doctoral M.S. in Public Health, and three honorary doctorates, has conducted her inspiring music workshops on three continents. She appears on numerous recordings, has acted in TV and film, and has written two children's books.
To Register please contact the church office at 207-729-8515. Single registrations can also be done online at http://ysaye.brownpapertickets.com.
Registration Fees: Single-$50, Couples-$75, Family of three or more - $100
Bagged Lunch (optional): $10
CONTACT INFO:
Unitarian Universalist Church of Brunswick


1 Middle Street


Brunswick
Contact:
ADDITIONAL INFO:
Category:
Cost:
$50 - Single, $75 - Couple, $100 - Family (3 or more)
Sponsor:
Unitarian Universalist Church of Brunswick
ACCESSIBILITY INFO:
Notes :
Disclaimer:
Any person or entity that relies on any information obtained from this system does so at his or her own risk. Various websites may be linked through the MaineArts.com website. Content of such sites is not monitored by the Maine Arts Commission.