Chris Klaxton and A Family Affair
Chris Klaxton and A Family Affair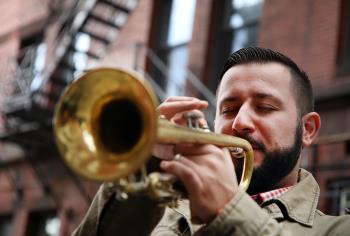 Caption:
Courtesy photo Chris Klaxton
On Friday, April 15 at 7:30pm, The Dance Hall in Kittery presents another in a series of jazz concerts as part of its "intimate listening room experience." Chris Klaxton brings a team of familiar faces - Taylor O'Donnell, Seth Lewis, and Eric Von Oeyen have graced the stage as key players in many a memorable performance. This time, the band of old friends will perform favorite selections from their very personal and time-tested repertoire as a peer group going back decades.
Klaxton, having known Seth Lewis for over 25 years, spent his formative college years as bandmates and roommates with Eric Von Oeyen, and traveled the world with his better half, Taylor O'Donnell (with whom he currently resides, performs, and co-teaches), cites the group as "having so much to fall back upon. As a group of friends we have such a diverse skill set and varied interest in music, and have been such a part of each other's growth that there is so much overlap and common ground. With that kind of love and tenderness on the bandstand, it's hard to go wrong."
The band intends to perform their most beloved jazz classics as well as their favorite tunes from the pop / folk / indie arena: Clark Terry, Gershwin, Joni Mitchell, Paul Simon, and Anais Mitchell.
Tickets are $12 in advance and $15 at the door.
CONTACT INFO:
The Dance Hall


7 Walker Street


Kittery
Contact:
ADDITIONAL INFO:
Category:
Cost:
Tickets are $12 in advance and $15 at the door.
Disclaimer:
Any person or entity that relies on any information obtained from this system does so at his or her own risk. Various websites may be linked through the MaineArts.com website. Content of such sites is not monitored by the Maine Arts Commission.