Creative Health! 3rd Annual Conference
Creative Health! 3rd Annual Conference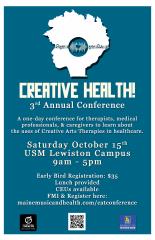 Caption:
2016 Conference Flyer 03 by Kate Beever
The Creative Health Conference is open to healthcare professionals, therapists, caregivers, and self-advocates. Presenters are certified art, dance, and music therapists who will share their work, research, and philosophies about the creative arts therapies in a variety of populations: autism, dementia, trauma, brain injury, oncology, and depression, among others. Join us for a day of learning, inspiration, and connections! Concurrent sessions include lecture and experiential formats- no prior arts experience necessary.
CONTACT INFO:
University of Southern Maine/Lewiston-Auburn Campus


51 Westminster Street


Lewiston
Contact:
ADDITIONAL INFO:
Category:
Cost:
$30 – $45 REGISTER, FMI: http://www.mainemusicandhealth.com/catconference
Sponsor:
USM School of Behavioral Science
ACCESSIBILITY INFO:
Notes :
Disclaimer:
Any person or entity that relies on any information obtained from this system does so at his or her own risk. Various websites may be linked through the MaineArts.com website. Content of such sites is not monitored by the Maine Arts Commission.