Elissa Margolin at The Dance Hall
Elissa Margolin at The Dance Hall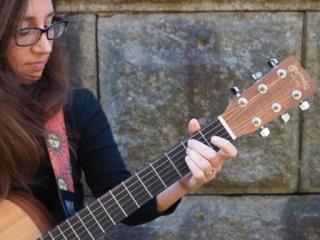 Caption:
Courtesy Photo Elissa Margolin
On Saturday, April 16 at 7:30pm, singer-songwiter Elissa Margolin will play a concert of her recent album, PIVOT, which was warmly received by the Seacoast community when it was first released at the end of 2015. EDGE magazine said the "brand-spanking-new album... picks up on her unique brand of ethereal folk, and expands upon it, adding textures and tricks that keep the listener engaged and enthralled." Margolin and her band, including Nate Therrien, Paul Donahue, and Tom Brown, plan an "extra special performance" with all the musicians who worked on the album.
Margolin's inaugural album, Love AnyWay (2010) was described as "Sarah McLachlan meets Radiohead." The second release, Fine Line Forming, generated a complex alternative band sound. PIVOT reveals a scaled-back indie-folk style. Elissa's 18 years of classical piano training still seeps through her compositions, even though she currently favors her acoustic guitar. She studied guitar and songwriting with the highly celebrated Chris Weisman (All Songs Considered, NPR) and has collaborated with some of the region's best musicians.
Tickets are $12 in advance or $15 at the door and can be purchased at www.thedancehallkittery.org and www.brownpapertickets.com.
CONTACT INFO:
The Dance Hall


7 Walker Street


Kittery
Contact:
ADDITIONAL INFO:
Category:
Cost:
Tickets are $12 in advance or $15 at the door.
Disclaimer:
Any person or entity that relies on any information obtained from this system does so at his or her own risk. Various websites may be linked through the MaineArts.com website. Content of such sites is not monitored by the Maine Arts Commission.