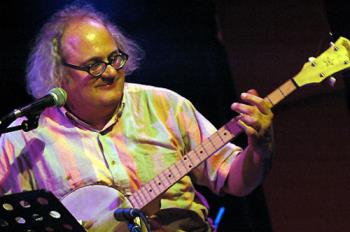 Legendary performer and virtuouso guitarist/banjoist Eugene Chadbourne, accompanied by Farmington's own Gustavo Aguilar on percussion, will play his own compositions and mustachioed Americana Mona Lisas, bringing his outrageously inventive, genre-bending interpretations of everything in American music from country to folk to bluegrass to free jazz to noise. Praised for his "crazed genius"--he "pushes traditional music to its edge and makes it jump"; inventor of "Shokabili" and too many other styles, forms and genres to name; with a discography of over 200 albums, Chadbourne has been an icon of the American underground indie scene for four decades.
CONTACT INFO:
the Cannery at South Penobscot


207 Southern Bay Rd


Penobscot
Contact:
ADDITIONAL INFO:
Category:
Children-Family
Community Event
Cost:
by donation, suggested $5- $15
Disclaimer:
Any person or entity that relies on any information obtained from this system does so at his or her own risk. Various websites may be linked through the MaineArts.com website. Content of such sites is not monitored by the Maine Arts Commission.