Evangeline, or The Belle of Acadia
Evangeline, or The Belle of Acadia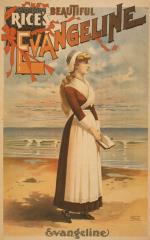 Evangeline, or The Belle of Acadia, by Edward E. Rice, a fundamental work in American musical theatre history, was first performed in 1874 and last seen over a century ago. The Longfellow Chorus and Orchestra, with Portland Ballet and Woodside One Wheelers of Topsham, will present a historic revival.
Saturday, April 2, 2016 7:30 PM – 10:00 PM
Sunday, April 3, 2016 3:00 PM – 5:30 PM
John Ford Theatre at Portland High School
284 Cumberland Avenue
Portland, Maine 04101
CONTACT INFO:
John Ford Theatre


Portland High School




284 Cumberland Avenue


Portland
Contact:
ADDITIONAL INFO:
Category:
Cost:
Admission: $20 general; $15 student/senior
Disclaimer:
Any person or entity that relies on any information obtained from this system does so at his or her own risk. Various websites may be linked through the MaineArts.com website. Content of such sites is not monitored by the Maine Arts Commission.