Farty Towels IV With Monty Python (Naughty) Bits
April 28, 2016 - May 15, 2016 (Sunday, Thursday, Friday, Saturday)
Farty Towels IV With Monty Python (Naughty) Bits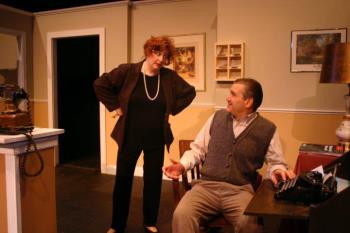 Caption:
Sybil and Basil Fawlty by Ten Bucks Theatre
Ten Bucks Theatre announces its production of
Farty Towels IV with Monty Python (Naughty) Bits
Directed by Bernard Hope
Come join us for a night of laughs as Ten Bucks presents our fourth installment in our Fawlty Towers series! In this classic British sitcom (directed by Bernard Hope), we'll follow Basil and Sybil Fawlty (Played by Ron and Julie Lisnet) as they balance running a hotel and keeping their guests (and each other) in line. In between the two theatrical episodes (The Psychiatrist and The Wedding Party), we will have skits from both the Monty Python and Fry and Laurie libraries. This is a comedic cabaret you won't want to miss!
Where: The Cyrus Pavilion Theatre, University of Maine at Orono
When: April 28, 29, 30, May 5, 6, 7, 12, 13, and 14 @7PM and May 1, 7, and 15 @2PM
Tickets: 10.00 available at the door ½ hour before show time or at http://tenbuckstheatreco.brownpapertickets.com/
FMI: www.tenbuckstheatre.org or call 884-1030 or visit Ten Bucks Theatre on Facebook
CONTACT INFO:
Cyrus Pavilion Theatre


6 Sebago Road




Univ. of Maine


Orono
Contact:
ADDITIONAL INFO:
Category:
Cost:
Sponsor:
ACCESSIBILITY INFO:
Notes :
Disclaimer:
Any person or entity that relies on any information obtained from this system does so at his or her own risk. Various websites may be linked through the MaineArts.com website. Content of such sites is not monitored by the Maine Arts Commission.