October 15, 2016 - November 8, 2016 (Monday, Tuesday, Wednesday, Thursday, Friday)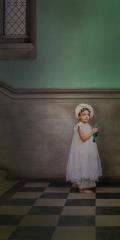 Caption:
Blue Bird, photographic print, 29″ x 17 1/2″, 2015 by Felice Boucher
Felice Boucher is the recipient of the 2016 Canon Par Excellence Award, as well as the 2016 Maine Photographer of the Year and the 2016 PPA International Diamond Photographer of the Year. In 2015, she was New England Photographer of the Year. In describing her work, Boucher notes that her photography is "still and direct, and closely parallels my meditation practices. All sense of time and place is set aside." Her newest body of work centers on women, exploring contrasts of soft and hard, life and death, strength and vulnerability.
CONTACT INFO:
Maine College of Art, Charles C. Thomas Gallery


522 Congress St.


Portland
Contact:
ADDITIONAL INFO:
Category:
Cost:
Sponsor:
ACCESSIBILITY INFO:
Notes :
Disclaimer:
Any person or entity that relies on any information obtained from this system does so at his or her own risk. Various websites may be linked through the MaineArts.com website. Content of such sites is not monitored by the Maine Arts Commission.