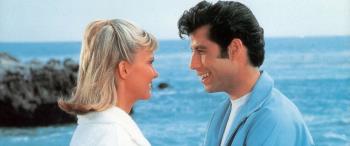 Caption:
Olivia Newton-John & John Travolta in the "Grease Sing-Along!" by Paramount Pictures
At 7:30 pm on Friday, May 6, The Grand encourages audience members to sing-along with the T-Birds and the Pink Ladies at the "Grease Sing-Along!" It's 1958 and "Grease" is the word! Based on the hit Broadway musical, the film tells the story of star-crossed lovers Sandy (Olivia Newton-John) and Danny (John Travolta) overcoming rival gangs, high school and the hand-jive! The best-selling movie musical of all time now comes to the Grand in a special "Sing-a-Long" screening with special props handed out before the event in the lobby! The audience is encouraged to sing-a-long with Sandy, Danny, Rizzo (Stockard Channing) and Kenickie (Jeff Conaway) to such hits as "Summer Lovin'", "Hopelessly Devoted to You," "Greased Lighting," "You're the One that I Want" and, of course, "Grease!" With Didi Conn, Frankie Avalon and Eve Arden. (1978. US 1hr, 50min. Directed by Randall Kleiser. PG-13.) For more information on this or other Grand events, please call the box office at 207-667-9500 or visit The Grand website at www.grandonline.org or follow us on Facebook.
CONTACT INFO:
The Grand


165 Main Street


Ellsworth
Contact:
ADDITIONAL INFO:
Category:
Cost:
Tickets for this General Admission presentation are $10 for Adults and $5 for Youth (12&under).
Sponsor:
ACCESSIBILITY INFO:
Notes :
Disclaimer:
Any person or entity that relies on any information obtained from this system does so at his or her own risk. Various websites may be linked through the MaineArts.com website. Content of such sites is not monitored by the Maine Arts Commission.