Gary Sredzienski and the Serfs throw a "Spring Fling" at The Dance Hall
Gary Sredzienski and the Serfs throw a "Spring Fling" at The Dance Hall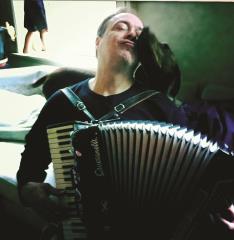 Caption:
Gary Sredzienski by Joanne Francis
Pull out your Hawaiian shirts! Dust off your flip-flops. Gary Sredzienski and The Serfs are bringing their unique combination of accordion-driven surfer music back to the Dance Hall in Kittery on Saturday, April 9 at 8PM.
Gary Sredzienski & The Serfs have been delighting audiences for 20 years with their unique blend of accordion, guitar, bass and drums. The Serfs draw from a wide variety of traditional world music styles and its own compositions to cross boundaries and elevate the accordion's image to a diverse multicultural vocalist.
Through the years, Gary honed his exceptionally versatile and passionate accordion style by crossing paths with musicians and people from a wide variety of cultures and musical styles. His grandparents came from Poland at the turn of the century and as a young child he was immersed in Polish culture and traditional music. His professional career began at age 9, and at age 10 he joined a group of 1930's vaudeville music performers traveling around New England playing with the 'Hog Hollow Hooters.' It is from them that Gary learned old American music along with the art of performance. Today his ever expanding repertoire encompasses music from a wide range of world and American traditions. He plays 1960's surf rock, traditional ethnic, and his own accordion compositions with his group, The Serfs, featuring Chris DeCato, Jamie DeCato, and Jim Taylor.
Tickets are $12 in advance and $15 at the door and can be purchased at www.thedancehallkittery.org and www.brownpapertickets.com.
CONTACT INFO:
The Dance Hall


7 Walker Street


Kittery
Contact:
ADDITIONAL INFO:
Category:
Cost:
Tickets are $12 in advance and $15 at the door.
Disclaimer:
Any person or entity that relies on any information obtained from this system does so at his or her own risk. Various websites may be linked through the MaineArts.com website. Content of such sites is not monitored by the Maine Arts Commission.