Glitterati 2016 - The Telling Room's Sixth Annual Sparkling Literary Ball
Glitterati 2016 - The Telling Room's Sixth Annual Sparkling Literary Ball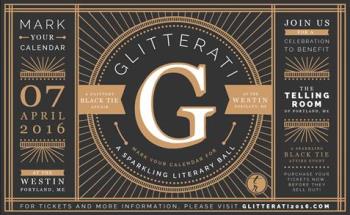 Glitterati 2016 will be The Telling Room's sixth annual Sparkling Literary Ball to support young writers in Maine. This year, the event moves to Portland's spectacular Westin Harborview Hotel for a night of revelry, a live and silent auction, delicious food and drink, and an appreciation of our fourth annual Red Buoy Award winner, Charlie Miller. All proceeds from the event will support our free writing programs for Maine youth.
GUEST AUTHORS: In November, 2015, the White House presented The Telling Room's Young Writers & Leaders program a National Arts and Humanities Youth Program Award, the highest honor given to afterschool arts programs in the country. Iraqi student alum Ibrahim Shkara and his family traveled with us to the White House to accept the award from First Lady Michelle Obama. In her speech, she put our work into context when she said, "arts education is not a luxury, it's a necessity." We firmly believe that to be true and couldn't be more proud of the 60+ remarkable alums of this program.
To celebrate this prestigious award, we've invited participants from this year's YWL cohort to be our 2016 Featured Authors. In the past, adult writers from all over Maine have filled the role including Richard Russo, Richard Blanco, Lily King, Chris Van Dusen, Monica Wood, and many others. These students deserve the place of honor this year for shining a light on their remarkable experiences and sharing them with the community at large. Prepare to be impressed!
CONTACT INFO:
Westin Portland Harborview Hotel
Portland
Contact:
ADDITIONAL INFO:
Category:
Cost:
Disclaimer:
Any person or entity that relies on any information obtained from this system does so at his or her own risk. Various websites may be linked through the MaineArts.com website. Content of such sites is not monitored by the Maine Arts Commission.