IN THIS REALM: Five Artists Exploring Gender, Identity, and Transformation
October 6, 2016 - October 21, 2016 (Sunday, Wednesday, Thursday, Friday, Saturday)
IN THIS REALM: Five Artists Exploring Gender, Identity, and Transformation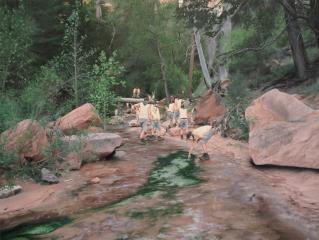 Caption:
Cobi Moules, Untitled (Fallen tree near LaVerkin Creek 2), oil on canvas, 21″ x 28″, 2012
Exhibition Opening: Friday, October 7, 2016, 5:00–8:00pm
On view from October 6–21, ICA Gallery hours: Wednesday–Sunday,11:00am–5:00pm, Thursday, 11:00am–7:00pm, Friday, 11:00am–5:00pm, (FFAW until 8:00pm)
Traversing the language of the art historical, psychoanalytic, poetic, and philosophic, this exhibition presents five views of becoming in today's culture. This group invites us to delve deeper into ideas of gender, identity, and cultural paradigms. Artists include Allyson Mitchell, Patricia Brace '06, Jung Hur, Cobi Moulesm and Veronica Cross. Curated by Michel Droge MFA '10.
CONTACT INFO:
Maine College of Art, ICA


522 Congress Street


Portland
Contact:
ADDITIONAL INFO:
Category:
Cost:
Sponsor:
ACCESSIBILITY INFO:
Notes :
Disclaimer:
Any person or entity that relies on any information obtained from this system does so at his or her own risk. Various websites may be linked through the MaineArts.com website. Content of such sites is not monitored by the Maine Arts Commission.