In Sensorium, BFA Thesis Exhibition 2016
April 29, 2016 - May 21, 2016 (Sunday, Wednesday, Thursday, Friday, Saturday)
In Sensorium, BFA Thesis Exhibition 2016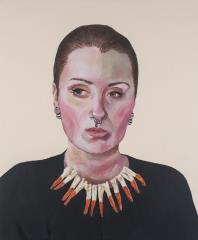 Caption:
Hannah Boone '16, My mom thinks you always look sad, 2016, acrylic on panel, 20"x30" by photography by Alik Versocki '15
In Sensorium is a four-part exhibition of thesis works from the graduating senior class at Maine College of Art. Each section explores the use of different materials, identities, processes and visual languages through four distinct themes: render, arrive, disturbance, and vivid. The exhibition showcases work from 11 disciplines across three floors of the Porteous building and two adjacent galleries. This collection of exploratory concepts and innovative designs culminate into a full sensorium of experience.
Friday, April 29–Saturday, May 21, 2016, Wednesday - Sunday, 11:00am-5:00pm, Thursday until 7:00PM
Opening Reception May 6, 2016; 5:00–8:00pm
CONTACT INFO:
Maine College of Art


522 Congress Street


Portland
Contact:
ADDITIONAL INFO:
Category:
Cost:
Sponsor:
ACCESSIBILITY INFO:
Notes :
Disclaimer:
Any person or entity that relies on any information obtained from this system does so at his or her own risk. Various websites may be linked through the MaineArts.com website. Content of such sites is not monitored by the Maine Arts Commission.