Inanna, Sisters in Rhythm Celebrate Earth Day at The Dance Hall
Inanna, Sisters in Rhythm Celebrate Earth Day at The Dance Hall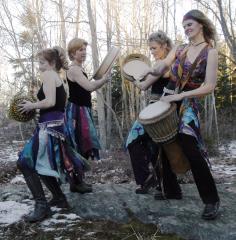 Caption:
Courtesy photo Inanna, Sisters in Rhythm
On Friday, April 22 at 7:30pm Inanna, Sisters in Rhythm will return to The Dance Hall for a concert to celebrate Earth Day. Inanna is a percussion and vocal ensemble that explores the heritage and rhythms of West Africa, through original arrangements and compositions invoking ancient traditions of the drum. Inanna was originally created by the participants of a drum class in Alna, Maine twenty four ago. Since that time, Inanna has recorded and released six, full-length albums and has performed at numerous percussion festivals and community events. Inanna is deeply dedicated to the education and cultivation of peace and sharing among cultures through the power of music. Inanna takes their name from an ancient Sumerian goddess, who held reign more than 4,000 years ago during a period when it is believed that drummers and dancers were predominantly women. The ensemble chose the name of this ancient goddess to express their ties with earlier traditions.
$12 are in advance and $15 at the door and can be purchased at www.thedancehallkittery.org and www.brownpapertickets.com.
CONTACT INFO:
The Dance Hall


7 Walker Street


Kittery
Contact:
ADDITIONAL INFO:
Category:
Cost:
$12 are in advance and $15 at the door
Disclaimer:
Any person or entity that relies on any information obtained from this system does so at his or her own risk. Various websites may be linked through the MaineArts.com website. Content of such sites is not monitored by the Maine Arts Commission.