Maine Crafts Guild Brunswick Fine Craft Show – American Craft Week
October 8, 2016 - October 9, 2016
Maine Crafts Guild Brunswick Fine Craft Show – American Craft Week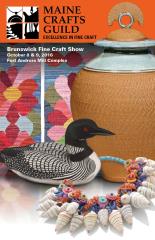 Caption:
Maine Crafts Guild Brunswick Fine Craft Show
Saturday, October 8: 10am-5pm
Sunday, October 9: 10am-4pm
Fort Andross Mill Complex, 14 Maine Street, Brunswick, ME
Come meet the makers of tomorrow's heirlooms, during American Craft Week, at the renovated Fort Andross Mill Complex on the Androscoggin River. We are pleased to offer unique shopping within a traditional Maine manufacturing setting. You will experience fine craft in wood, metal, clay, natural fibers and glass. Brunswick is a short 30 minute drive from Portland and the area offers a wide variety of cultural and recreational activities. Admission $3; under 18 free.
CONTACT INFO:
Fort Andross Mill Complex


14 Maine Street


Brunswick
Contact:
ADDITIONAL INFO:
Category:
Children-Family
Community Event
Cost:
Admission $3; under 18 free.
Sponsor:
Disclaimer:
Any person or entity that relies on any information obtained from this system does so at his or her own risk. Various websites may be linked through the MaineArts.com website. Content of such sites is not monitored by the Maine Arts Commission.