Maine Pottery Tour's 5th Annual Weekend Tour
April 30, 2016 - May 1, 2016
Maine Pottery Tour's 5th Annual Weekend Tour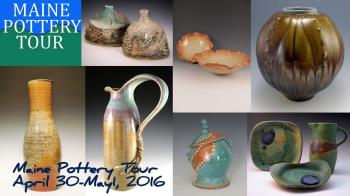 Caption:
Maine Pottery Tour 2016
Over 35 pottery studios throughout Maine will open their doors to visitors, inviting them to peek into kilns, see demonstrations, meet the artists, and shop for local, handmade goods. Be sure to check out the interactive map at www.mainepotterytour.org.
CONTACT INFO:
Various Locations in Maine
Augusta
Contact:
ADDITIONAL INFO:
Category:
Cost:
Sponsor:
Disclaimer:
Any person or entity that relies on any information obtained from this system does so at his or her own risk. Various websites may be linked through the MaineArts.com website. Content of such sites is not monitored by the Maine Arts Commission.