Maine State Museum Announces the Opening of its Newest Exhibit Inventors and Sportsmen
Maine State Museum Announces the Opening of its Newest Exhibit Inventors and Sportsmen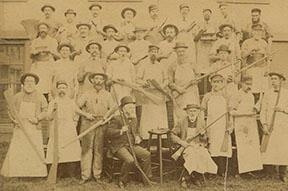 The exhibit celebrates generations of Maine craftsmen and illustrates their inventions, art, and contributions to the early period of the gun-making industry. The exhibit will include the work of many Maine gunsmiths. Some, like John Hall, improved the efficiency of gun manufacture. Other gunsmiths combined an amazing number of skills to create guns that met the sporting and hunting needs of 19th century Mainers.
Celebrate the opening of the Maine State Museum's newest exhibit Inventors and Sportsmen: Maine Gunsmiths in the 1800s, on Saturday, April 2 from 10:00 am to 4:00 pm, with free admission for all, gallery talks by the exhibit's curator, and hands-on activities for visitors of all ages. For more information see the museum's website, www.mainestatemuseum.org.
Inventors and Sportsmen: Maine Gunsmiths in the 1800s, is scheduled to be open through Spring 2017.
The Maine State Museum is open Tuesday through Friday 9am-5pm, Saturday 10am-4pm, closed Sunday and Monday. Admission is $2 for adults; $1 for senior adults over age 62 and children 6-18 years of age; children under 6 free. Maximum charge for families is $6. For more information please call 207-287-2301, or visit the Maine State Museum website: www.mainestatemuseum.org
CONTACT INFO:
Maine State Museum


83 State House Station


Augusta
Contact:
ADDITIONAL INFO:
Category:
Cost:
Disclaimer:
Any person or entity that relies on any information obtained from this system does so at his or her own risk. Various websites may be linked through the MaineArts.com website. Content of such sites is not monitored by the Maine Arts Commission.