October 5, 2016 - November 6, 2016 (Sunday, Tuesday, Wednesday, Thursday, Friday, Saturday)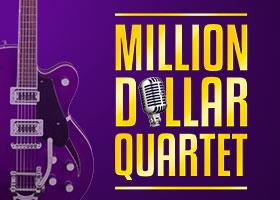 Elvis, Jerry Lee, Perkins, Cash - They came together to make music. Their story made history. Million Dollar Quartet is the Tony Award-winning Broadway musical inspired by the electrifying true story of the famed recording session that brought together rock 'n' roll icons Elvis Presley, Johnny Cash, Jerry Lee Lewis and Carl Perkins for the first and only time. On December 4, 1956, these four young musicians were gathered together by Sam Phillips, the "Father of Rock 'n' Roll," at Sun Records in Memphis for what would be one of the greatest jam sessions of all time. Million Dollar Quartet brings that legendary night to life with an irresistible tale of broken promises, secrets, friendships and celebrations, featuring timeless hits such as "Blue Suede Shoes," "Great Balls of Fire," "I Walk the Line," "Whole Lotta Shakin' Goin' On," "Fever," "Folsom Prison Blues," "Hound Dog" and more. This thrilling musical brings you inside the recording studio with four major talents who came together as a red-hot rock 'n' roll band for one unforgettable night. It was Rock and Roll's best kept secret...until now!
Run Time: 2 hours with intermission
Content Advisory: PG - Mild adult situations including cigarette smoking. (There is no official rating system for live theatre. We encourage you to use your judgment based on your child's age and maturity level.)
http://www.ogunquitplayhouse.org/2016/million-dollar-quartet
CONTACT INFO:
Ogunquit Playhouse
Ogunquit
Contact:
ADDITIONAL INFO:
Category:
Cost:
Disclaimer:
Any person or entity that relies on any information obtained from this system does so at his or her own risk. Various websites may be linked through the MaineArts.com website. Content of such sites is not monitored by the Maine Arts Commission.