Performance by Jared Paul: Poet, Rapper, Educator, Activist
Performance by Jared Paul: Poet, Rapper, Educator, Activist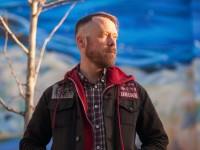 Jared Paul will be appearing at the Institute of Contemporary Art at 6:00pm on Thursday, April 7, to coincide with National Poetry Month. Jared will perform several of his long-form performance poems, as well as discuss the context and mechanics of a life straddling DIY creativity and DIY activism. An open Question & Answer mediated by Senior Admissions Staff & Performing Artist Jason Cornell will follow.
The event is free and open to the public.
Jared Paul: Poet, Rapper, Educator, Activist
Jared Paul is a writer, performance artist, and community organizer from Providence, RI. He is a two time Individual World Poetry Slam Finalist and an eight time coach of the Providence National Youth Slam Team, which placed second in the nation at Brave New Voices 2007. Having toured throughout the U.S., Canada, and Europe, playing alongside acclaimed poets, musicians, journalists, and speakers such as Amy Goodman, Saul Williams, Our Lady Peace, Paul Hawken, Immortal Technique, Anti- (View Full Event Description Here: https://www.meca.edu/event/jared-paul/)
CONTACT INFO:
Maine College of Art


522 Congress St.


Portland
Contact:
ADDITIONAL INFO:
Category:
Cost:
Sponsor:
ACCESSIBILITY INFO:
Notes :
Disclaimer:
Any person or entity that relies on any information obtained from this system does so at his or her own risk. Various websites may be linked through the MaineArts.com website. Content of such sites is not monitored by the Maine Arts Commission.