Portland Ballet: The Legend of Sleepy Hollow
Portland Ballet: The Legend of Sleepy Hollow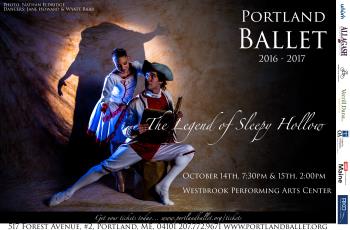 Caption:
Portland Ballet: The Legend of Sleepy Hollow by Nathan Eldridge
This family favorite has returned to Portland! With original choreography by Nell Shipman and live orchestra, we will kick off the season with a classic tale for everyone!
CONTACT INFO:
Westbrook Performing Arts Center


471 Stroudwater St


Westbrook
Contact:
ADDITIONAL INFO:
Category:
Children-Family
Community Event
Cost:
$30.00 - Adult $20.00 - Seniors $15.00 - Students (with student ID) $10.00 - Children (15 and under)
Sponsor:
Disclaimer:
Any person or entity that relies on any information obtained from this system does so at his or her own risk. Various websites may be linked through the MaineArts.com website. Content of such sites is not monitored by the Maine Arts Commission.