Premier of Mark Tipton's new score for Fritz Lang's "Metropolis" with Les Sorciers Perdus
Premier of Mark Tipton's new score for Fritz Lang's "Metropolis" with Les Sorciers Perdus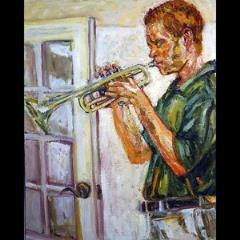 Caption:
Portrait of Mark Tipton by Oil on Canvas by Carlo Pittore
Les Sorciers Perdus ("The Lost Wizards") premier Mark's new score for Fritz Lang's 1927 silent epic Metropolis. Personnel includes: Mark Tipton (trumpet/keyboard/sound effects), Tracy McMullen (saxes/flute), Don Pride (guitars), Tyler Heydolph (bass), and Peter McLaughlin (drums/percussion/sound effects). Don't miss this one-of-a-kind premier! A pot-luck from 6-7:30pm will precede the performance at 7:30pm. We hope to see you there!
Please email host David Whittlesey for more details at david.whittlesey@gmail.com.
CONTACT INFO:
Private Residence
Bowdoinham
Contact:
ADDITIONAL INFO:
Category:
Cost:
Suggested donation of $10/person.
Disclaimer:
Any person or entity that relies on any information obtained from this system does so at his or her own risk. Various websites may be linked through the MaineArts.com website. Content of such sites is not monitored by the Maine Arts Commission.