River Sister at The Dance Hall
River Sister at The Dance Hall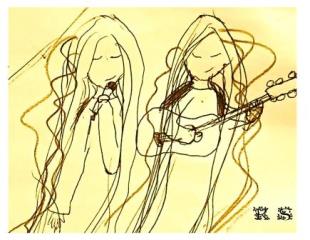 Caption:
Courtesy graphic River Sister
On Saturday, October 15 at 7:30pm, The Dance Hall presents River Sister, a soulful, acoustic folk project featuring the vocal harmonies of Elissa Margolin and Stefanie Guzikowski with the rhythms of bassist Nate Therrien and jazz drummer PJ Donahue. Inspired by the music of Rising Appalachia, Elissa Margolin (winner of the Spotlight Award for Best Singer-Songwriter) has composed for this new project with a focus on joy, rhythm and heart.
Sometimes there are moments that can inspire an entirely new artistic direction. That is the story of a new musical project on the Seacoast called River Sister. When vocalist Stefanie Guzikowski sat in to sing harmonies on a couple of tunes at singer-songwriter Elissa Margolin's performances, the band started to notice that a quiet would come over the room -- even in the busiest of bar scenes. Audience members would comment on the silky blend of these two female vocalists - how one tone compliments the other and resonates as one voice.
With producing "one voice" as the central inspiration, Elissa and Stefanie invited accomplished jazz musicians, bassist Nathan Therrien and drummer Paul Donahue, to help create their sound. The result? Soulful harmonies and joyful grooves.
One might call River Sister's genre of music, indie folk, reminiscent of Rising Appalachia or My Bubba with homage paid to the beauty of the sparse and a cappella. However, River Sister often moves its impressive rhythm section from background to foreground, sharing jazz inspired grooves with notable complexity.
River Sister has generated a sound that flows to the heart.
and can be purchased at TheDanceHallKittery.org and Brownpapertickets.com.
CONTACT INFO:
The Dance Hall Kittery


7 Walker Street


Kittery
Contact:
ADDITIONAL INFO:
Category:
Cost:
Tickets are $12 in advance and $15 at the door.
Disclaimer:
Any person or entity that relies on any information obtained from this system does so at his or her own risk. Various websites may be linked through the MaineArts.com website. Content of such sites is not monitored by the Maine Arts Commission.