Soggy Po Boys Pay Tribute to Allen Toussaint
Soggy Po Boys Pay Tribute to Allen Toussaint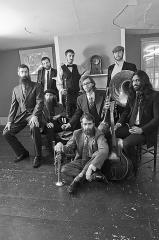 Caption:
Courtesy photo Soggy Po Boys
The Soggy Po Boys will commence their 2016 performance-lecture series "Honoring A Tradition" with a tribute to the late Allen Toussaint on Saturday March 26, 7:00 PM at The Dance Hall, in Kittery, ME. "Honoring A Tradition" is a three-part music series organized and orchestrated by the seacoast's own Soggy Po Boys. The seeds for the series were planted last year when the band organized a performance of all Louis Armstrong music that was framed and punctuated by short lectures in which members of the Po Boys contextualized Armstrong's music with social, cultural, and biographical commentary.
By popular demand, the Soggy Po Boys are excited to continue this enriching project and further sink their teeth into the towering muffuletta that is New Orleans music culture. "Like Norman Whitfield, Rick Rubin, and Steve Albini, Allen Toussaint has always been known more by musicians than by the public at large," says Stu Dias, founder, guitarist, and lead vocalist of the Soggy Po Boys. And it's the truth; a list of Toussaint's productions, collaborations, and compositions comprises a veritable who's who (rather, who dat?) in New Orleans music. Dias continues, "He's an absolute giant of New Orleans R&B and his production discography is staggering," boasting a thick rapport with Dr. John, Lee Dorsey, the Wild Tchoupitoulas, and many other NOLA heavyweights. "The biggest tragedy of his passing is that the world still hasn't quite realized what's been lost," says Dias, "and I think this is an opportunity for us to show them."
The Soggy Po Boys were born on Mardi Gras, 2012 at the late Barley Pub in Dover, NH, and the septet has since been honing its craft every Tuesday night at that same venue (now called Sonny's Tavern). Most Po Boys performances host a diverse repertory of New Orleans standards, spirituals, contemporary music, and swing tunes, among other styles. You're never quite sure if they're going to ambush you with some heavy-hitting funk (a la the Meters), inflict angst with one of their heart-wrenching dirges, or part your hair with a searing Sidney Bechet classic. Those in attendance at The Dance Hall on March 26 will have the unique opportunity to hear The Soggy Po Boys play only those musical selections that bear the fingerprints of the late Toussaint.
The Dance Hall sits at the heart of downtown Kittery and has historically served as a bastion for seacoast creativity and cross-cultural exchange. At the hands of Drika Overton, the storied art space has undergone a renaissance in recent years, offering classes in tap, jazz tap, West African drumming and dance, Pilates, ballet, and even belly dancing among a growing list of other traditions. As a non-profit organization that strongly advocates for arts outreach, entertainment, and education, The Dance Hall has become a pillar in the contemporary seacoast arts scene. The Soggy Po Boys are thrilled to partner with an organization that continues to support local music, and they hope you'll join them in adding to the history that The Dance Hall embodies.
The Soggy Po Boys are Stuart Dias (lead vocals, guitar), Eric Klaxton (saxophone), Zach Lange (trumpet), Nick Mainella (saxophone), Mike Effenberger (piano), Brett Gallo (drums), and Nick Phaneuf (bass).
But you're going to want to get a ticket, and soon, because the last time the Soggy Po Boys played a note inside The Dance Hall, tickets were harder to come by than an open seat at Café Du Monde. Advance tickets are $12.00 or you can pay $15.00 at the door. They're bound to disappear like fresh beignets so don't wait, don't bow down, and don't forget your dancing shoes!
Get advance tickets at www.thedancehallkittery.org or www.brownpapertickets.com.
CONTACT INFO:
The Dance Hall


7 Walker Street


Kittery
Contact:
ADDITIONAL INFO:
Category:
Cost:
Advance tickets are $12.00 or you can pay $15.00 at the door.
Disclaimer:
Any person or entity that relies on any information obtained from this system does so at his or her own risk. Various websites may be linked through the MaineArts.com website. Content of such sites is not monitored by the Maine Arts Commission.