Soyjoy with Special Guest Mark Shilansky at The Dance Hall
Soyjoy with Special Guest Mark Shilansky at The Dance Hall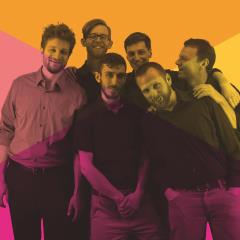 Caption:
Courtesy photo Sojoy
On Friday, March 25, Sojoy return to the Dance Hall in Kittery after much excitement over the release of their debut album in November: "…one of the finest jazz recordings this area, and the world in general, has ever heard" (Portsmouth Herald). "On their exceptional debut, Sojoy brings Peiffer's visions to life and inspires our own" (The Sound).
Sojoy has begun producing a series featuring special guest artists. Next up in the series Sojoy will be joined by pianist, singer, and composer Mark Shilansky. Originally from Concord, NH, Shilansky now lives in the Boston area and teaches at Berklee College of Music, as well as UNH. He has 5 recordings of his own under his belt, including his most recent 'Fugue Mill' project, and appears on many others. He has performed with greats like Donny McCaslin, Luciana Souza, Kenny Wheeler, and many more. Shilansky will add his skilled pianism and singing to the normally chord-less and instrumental Sojoy. He will also bring some of his own compositions and signature arrangements of pop tunes to add to the Sojoy sound, including Billy Joel's sleeper hit 'Rosalinda's Eyes.'
Sojoy will be performing some of Jonny Peiffer's brand new compositions, as well as a handful of Neil Young tunes recently arranged for a tribute show to the folk/rock star, all of which will feature Shilansky on keys.
Sojoy is a little big band modern jazz septet, built around drummer/composer Jonny Peiffer, that performs cinematic sound celebrations. The group is comprised of members from celebrated bands like Soggy Po Boys, Mother Superior and the Sliding Royales, and Shango Afrobeat Orchestra. They have been wowing audiences everywhere they go with their hummable melodies, warm harmonies and wildly creative solos. "Peiffer has mastered his own voice, proving that great music still exists even as new traditions are being forged." - (Portsmouth Herald)
Sojoy Personnel:
Jonny Peiffer - drums
Zach Lange - trumpet
Josh Gagnon - trombone
Matt Langley - saxes
Eric Klaxton - alto sax
Nick Mainella - tenor sax
Scott Kiefner - bass
Mark Shilansky - keyboard, voice
Tickets are $12 in advance and $15 at the door and can be purchased at www.thedancehallkittery.org and www.brownpapertickets.com.
CONTACT INFO:
The Dance Hall


7 Walker Street


Kittery
Contact:
ADDITIONAL INFO:
Category:
Cost:
Tickets are $12 in advance and $15 at the door.
Disclaimer:
Any person or entity that relies on any information obtained from this system does so at his or her own risk. Various websites may be linked through the MaineArts.com website. Content of such sites is not monitored by the Maine Arts Commission.