Spring CineGrand Film: Bridge of Spies - Tuesday Evening
Spring CineGrand Film: Bridge of Spies - Tuesday Evening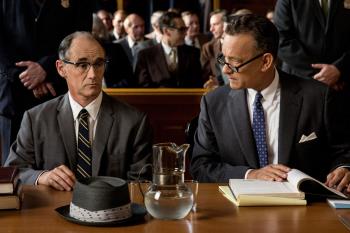 Caption:
Oscar™-winner Mark Ryland and Tom Hanks in the Oscar™-nominated "Bridge of Spies." by Walt Disney Pictures
The Grand's Weekly CineGrand series – a series of the best of the recent films, from both the Hollywood studios and independents, all playing at 7:30 pm on Tuesdays and 1:00 pm on Wednesdays at The Grand in Ellsworth - continues its new Spring season on Tuesday, April 26 and Wednesday April 27 with one of this year's Oscar™-nominated films for Best Picture. Bridge of Spies, based on an actual historical event, tells the story of James Donovan (Tom Hanks) a Brooklyn lawyer who finds himself thrust into the center of the Cold War when the CIA sends him on a nearly impossible mission to negotiate the release of a captured American U-2 pilot. With Amy Ryan and an Oscar™-winning performance for Best Supporting Actor from Mark Ryland. (2015. US 2hr, 15min. Directed by Steven Spielberg. PG-13.) For more information on this or other Grand events, please call the box office at 207-667-9500 or visit The Grand website at www.grandonline.org or follow us on Facebook.
CONTACT INFO:
The Grand


165 Main Street


Ellsworth
Contact:
ADDITIONAL INFO:
Category:
Cost:
Tickets for this General Admission presentation are $7 for Adults, $6 for Seniors/Students and $5 for Grand Members.
Sponsor:
ACCESSIBILITY INFO:
Notes :
Disclaimer:
Any person or entity that relies on any information obtained from this system does so at his or her own risk. Various websites may be linked through the MaineArts.com website. Content of such sites is not monitored by the Maine Arts Commission.