Spring CineGrand Film: Joy- Wednesday Matinee
Spring CineGrand Film: Joy- Wednesday Matinee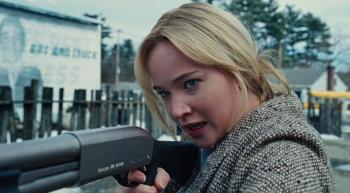 Caption:
Jennifer Lawrence takes aim in her Oscar™-nominated performance as "Joy." by 20th Century Fox
The Grand's Weekly CineGrand series– a series of the best of the recent films, from both the Hollywood studios and independents, all playing at 7:30 pm on Tuesdays and 1:00 pm on Wednesdays at The Grand in Ellsworth- begins its new Spring season on Tuesday, April 5 and Wednesday April 6 with the latest film from the makers and stars of Silver Lining Playbook and American Hustle. Joy is the wild story of a family across four generations centered on the girl who becomes the woman who founds a business dynasty and becomes a matriarch in her own right. Betrayal, treachery, the loss of innocence and the scars of love, pave the road in this intense emotional and human comedy about becoming a true boss of family and enterprise facing a world of unforgiving commerce. Jennifer Lawrence stars in an Oscar™-nominated performance, with Robert De Niro, Bradley Cooper, Edgar Ramirez, Isabella Rossellini, Diane Ladd, Virginia Madsen, Elisabeth Röhm and Dascha Polanco. (2015. USA 2hrs. Directed by David O. Russell. PG-13.) For more information on this or other Grand events, please call the box office at 207-667-9500 or visit The Grand website at www.grandonline.org or follow us on Facebook.
CONTACT INFO:
The Grand


165 Main Street


Ellsworth
Contact:
ADDITIONAL INFO:
Category:
Cost:
Tickets for this General Admission presentation are $7 for Adults, $6 for Seniors/Students and $5 for Grand Members.
Sponsor:
ACCESSIBILITY INFO:
Notes :
Disclaimer:
Any person or entity that relies on any information obtained from this system does so at his or her own risk. Various websites may be linked through the MaineArts.com website. Content of such sites is not monitored by the Maine Arts Commission.