Spring CineGrand Film: Spotlight- Tuesday Evening
Spring CineGrand Film: Spotlight- Tuesday Evening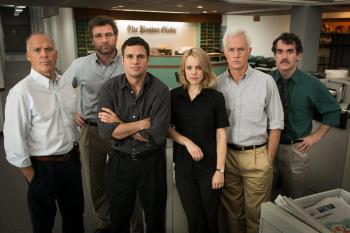 Caption:
The cast of this year's Oscar™-winning film for Best Picture, "Spotlight." by Open Road Films
The Grand's Weekly CineGrand series – a series of the best of the recent films, from both the Hollywood studios and independents, all playing at 7:30 pm on Tuesdays and 1:00 pm on Wednesdays at The Grand in Ellsworth- continues its new Spring season on Tuesday, April 12 and Wednesday April 13 with this year's Oscar™-winning film for Best Picture. Spotlight tells the riveting true story of the Pulitzer Prize-winning Boston Globe investigation that would rock the city and cause a crisis in one of the world's oldest and most trusted institutions. When the newspaper's tenacious "Spotlight" team of reporters delves into allegations of abuse in the Catholic Church, their year-long investigation uncovers a decades-long cover-up at the highest levels of Boston's religious, legal, and government establishment, touching off a wave of revelations around the world. (2015. USA. 2 hr, 7 min. Directed by Tom McCarthy. R.) The ensemble cast includes Mark Ruffalo, Michael Keaton, Stanley Tucci, Liev Schreiber and Rachel McAdams. For more information on this or other Grand events, please call the box office at 207-667-9500 or visit The Grand website at www.grandonline.org or follow us on Facebook.
CONTACT INFO:
The Grand


165 Main Street


Ellsworth
Contact:
ADDITIONAL INFO:
Category:
Cost:
Tickets for this General Admission presentation are $7 for Adults, $6 for Seniors/Students and $5 for Grand Members.
Sponsor:
ACCESSIBILITY INFO:
Notes :
Disclaimer:
Any person or entity that relies on any information obtained from this system does so at his or her own risk. Various websites may be linked through the MaineArts.com website. Content of such sites is not monitored by the Maine Arts Commission.