SpringSong – Choral Art Society Concert
SpringSong – Choral Art Society Concert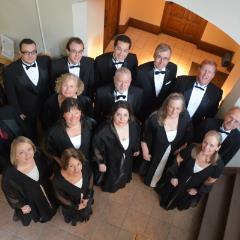 Caption:
Choral Art Camerata
Directed by Robert Russell, the Choral Art Camerata (Choral Art Society's 15 member chamber chorus) sings a cappella arrangements in the intimate sanctuary of Williston-Immanuel United Church. Program to include J. S. Bach's Lobet den Herrn, Palestrina's Missa Brevis, Brahms' Schaffe in mir, Gott, Three Madrigals by Jean Berger, folk song arrangements, and spirituals.
CONTACT INFO:
Williston-Immanuel United Church


156 High St


Portland
Contact:
ADDITIONAL INFO:
Category:
Cost:
Advance Tickets – Adult $20, Student $10
Sponsor:
Disclaimer:
Any person or entity that relies on any information obtained from this system does so at his or her own risk. Various websites may be linked through the MaineArts.com website. Content of such sites is not monitored by the Maine Arts Commission.