Tap Dancer Ryan P. Casey Returns to The Dance Hall
Tap Dancer Ryan P. Casey Returns to The Dance Hall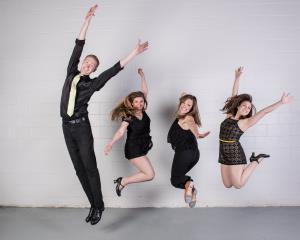 Caption:
Courtesy photo: Ryan P. Casey
Tap dancer Ryan Casey returns to The Dance Hall in Kittery with his new show Unbound, a rhythmic romp through classic literature, on Saturday, October 22 at 7:30pm.
Off Beat is a performing ensemble dedicated to presenting engaging, inventive, rhythm-based work that takes tap dancing off the beaten path. Under the artistic direction of award-winning performer and choreographer Ryan P. Casey, the company infuses its original choreography with quirky humor, poetry, characters, and more. The ensemble has performed with the Inside/Out series at Jacob's Pillow, Symphony Space, Massachusetts Dance Festival, Southern Vermont Dance Festival, The Dance Complex, Providence Performing Arts Center, and numerous other venues. Their new show, "Unbound," will debut and tour this fall. Casey was recently named one of the "25 to Watch" in Dance Magazine, in which he was noted for his "freakishly clean footwork reminiscent of Fred Astaire." Last year, he earned a choreography grant from the Massachusetts Cultural Council and was praised in the New York Times as a "gangly dancer [;who]; can morph from a giraffe into a grasshopper with the graceful fold of the limbs." His company, Ryan P. Casey & Dancers, has performed throughout the Northeast, including the Inside/Out series at Jacob's Pillow Dance Festival. Tickets are $16 in advance and $20 at the door and can be purchased at TheDanceHallKittery.org and Brownpapertickets.com.
CONTACT INFO:
The Dance Hall


7 Walker Street


Kittery
Contact:
ADDITIONAL INFO:
Category:
Cost:
Tickets are $16 in advance and $20 at the door.
Disclaimer:
Any person or entity that relies on any information obtained from this system does so at his or her own risk. Various websites may be linked through the MaineArts.com website. Content of such sites is not monitored by the Maine Arts Commission.