The Dance Hall Celebrates its 5th Anniversary!
The Dance Hall Celebrates its 5th Anniversary!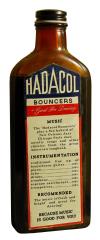 Caption:
Courtesy photo Hadacol Bouncers
On Saturday, April 2 at 6pm The Dance Hall in Kittery celebrates its 5th Anniversary transforming the Prohibition era building into the Seacoast's most popular Speakeasy. The Bootlegger's Ball, a night of fun, food, dancing, and booze, will feature the comedian TTTom Clark, swing band the Hadacol Bouncers, singer Taylor O'Donnell and members of Lady Luck Burlesque. It'll be the Bees-knees!
The Dance Hall, located in a landmark Grange Hall in Kittery, Maine, opened in April 2011 as a non-profit performing arts venue dedicated, in part, to revitalizing a dance community that had all but disappeared on the rapidly developing Seacoast. The building was purchased and renovated by arts patron and ballroom dancer Cary Mabley and donated to the newly formed non-profit founded by Drika Overton, a dancer and producer with a long career in the community and region.
Walk into the lobby of The Dance Hall, built in 1928, and be dazzled by a red wall featuring exquisite period paintings by renowned muralist Gordon Carlisle. In addition to a weekly schedule of dance classes, The Dance Hall has also evolved into one of the region's finest music listening rooms featuring intimate concerts with local, national and internationally recognized musicians. Their all-ages live music and dance parties have become legendary, and music and dance performance events have included tap, contemporary, West African, Hip Hop, and Breakdancing.
Food generously donated by Anju, Anneke Jans, The Wallingford Dram, Tulsi, Black Birch, Beach Pea, MEat, and Blind Pig Provisions.
Tickets for the Bootlegger's Ball fundraising event are $45 and available in advance at www.thedancehallkittery.org and www.brownpapertickets.com.
CONTACT INFO:
The Dance Hall


7 Walker Street


Kittery
Contact:
ADDITIONAL INFO:
Category:
Cost:
Disclaimer:
Any person or entity that relies on any information obtained from this system does so at his or her own risk. Various websites may be linked through the MaineArts.com website. Content of such sites is not monitored by the Maine Arts Commission.