Thomas Buckner and Friends
Thomas Buckner and Friends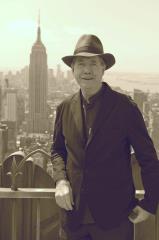 Thomas Buckner, baritone, who for decades has championed music of the avant-garde in America and throughout the world, will perform a solo set of commissioned pieces, one with video projection, followed by a group improvisation with Anna Demska (voice), Steve Norton (reeds) and Leslie Ross (bassoon). Buckner has appeared at Lincoln Center, Carnegie Hall, the Herbst Theatre, the Art Institute of Chicago, the Berlin Spring Festival, the Huddersfield Contemporary Music Festival the, the Prague Spring Festival, and the Angelica Festival of Bologna and is featured on over 50 recordings.
CONTACT INFO:
the Cannery at South Penobscot


207 Southern Bay Rd


Penobscot
Contact:
ADDITIONAL INFO:
Category:
Children-Family
Community Event
Cost:
by donation, suggested $5- $15
Disclaimer:
Any person or entity that relies on any information obtained from this system does so at his or her own risk. Various websites may be linked through the MaineArts.com website. Content of such sites is not monitored by the Maine Arts Commission.