USM Youth Ensembles Spring Choral Concert
USM Youth Ensembles Spring Choral Concert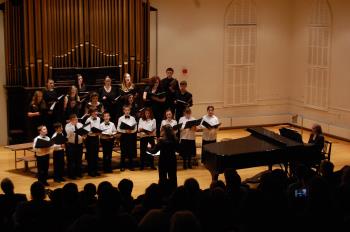 Caption:
Youth Ensembles by USM
The USM School of Music is proud to present the USM Youth Ensembles two choral groups in their spring concert.
The Southern Maine Youth Chorale (SMYC) and the Southern Maine Children's Choir (SMCC) rehearse at the USM School of Music throughout the year and present a final concert to showcase their talent and musicianship. The SMYC is comprised of singers in grades seven through twelve and the SMCC is comprised of singers in grades three and up.
CONTACT INFO:
USM Corthell Concert Hall


37 College Ave


Gorham
Contact:
ADDITIONAL INFO:
Category:
Cost:
Donations accepted at the door
Sponsor:
Disclaimer:
Any person or entity that relies on any information obtained from this system does so at his or her own risk. Various websites may be linked through the MaineArts.com website. Content of such sites is not monitored by the Maine Arts Commission.