University Chorale "Chorale Americana" Nicolás Alberto Dosman, conductor
University Chorale "Chorale Americana" Nicolás Alberto Dosman, conductor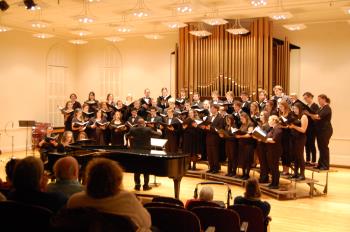 The USM School of Music presents the University Chorale in their spring concert, conducted this season by Nicolás Alberto Dosman. The concert "Chorale Americana" will feature a diverse selection of American choral music from the continents of North and South America.
CONTACT INFO:
Woodford's Congregational Church


202 Woodford Street


Portland
Contact:
ADDITIONAL INFO:
Category:
Cost:
$8 for adults, $5 for students, seniors, USM employees and alumni.
Sponsor:
Disclaimer:
Any person or entity that relies on any information obtained from this system does so at his or her own risk. Various websites may be linked through the MaineArts.com website. Content of such sites is not monitored by the Maine Arts Commission.