Waterscapes, photographs by Chris Becker
Waterscapes, photographs by Chris Becker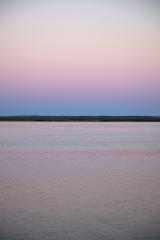 Caption:
Twilight Over Atlantic #11, 2016 by Chris Becker
Opening Reception
Saturday, April 2nd, 5pm - 7pm The show will be up most of the summer.
Like others, this series deals with history and temporal existence by investigating themes of time. The exhibition consists of mostly abstract etheral images of bodies of water (mostly local Atlantic Ocean) in different states of motion and usually shot at twilight. Divided into two, sometimes 3 or four rectangles—one dark, one light, another darker—the relationship between sea and sky takes on an almost abstract geometry that carries from image to image. The show will be up for most of the summer.
Chris Becker Gallery, 127 Ocean Ave, Kennebunkport, Maine
www.chrisbeckerphoto.com
207-967-0069
CONTACT INFO:
Chris Becker Gallery


127 Ocean Ave


Kennebunkport
Contact:
ADDITIONAL INFO:
Category:
Children-Family
Community Event
Cost:
Disclaimer:
Any person or entity that relies on any information obtained from this system does so at his or her own risk. Various websites may be linked through the MaineArts.com website. Content of such sites is not monitored by the Maine Arts Commission.